Tired of the hustle, bustle and noise at the airport during your layover or pre-flight waiting period? You already know that airport lounges offered by the airlines provide a well-needed respite from the maddening crowd wandering through the airport. Some are better than others – especially if they are FREE!
If you're not lucky enough to be a top-tier elite airline frequent flyer or carry a premium ticket, American Express Centurion Lounges at the airport may be your answer! American Express is offering free access to these exceptional lounges exclusively for their Platinum Card® and Centurion® Members.
Right now, these new (all under three years old!) and upscale airport lounges from AmEx are only open in a few airports, but if you are lucky enough to be in Las Vegas McCarran International Airport, Dallas-Fort Worth, New York-LaGuardia, San Francisco, Miami, and Seattle (an extension of The Centurion Lounge in a smaller setting), then visit you must! A new lounge is planned for the Houston (IAH) airport later in 2016.
From the moment you walk in, you know something's different – in a good way. While all locations include standard amenities like showers and complimentary Wi-Fi and food & drinks, and a variety of seating, each has its own unique characteristics that provide a comfortable pre-flight or layover experience at the select airports. On the menu at each location – locally-inspired food and locally produced wines, beers and artisanal beverages. The cuisine at each Centurion airport lounge is prepared by world-renowned chefs known for showcasing the local flavors of the area. This is the way to kill the dead time you have to spend at the airport!
Let's check it out!
Starting with the "mini" version at the Seattle (SEA) airport, at the Centurion Studio, you're treated with unexpected touches like premium healthy snacks and comfortable seating with high-speed Wi-Fi and outlets near every seat. The Studio is located in Concourse B, opposite Gate B3. The Studio is accessible from any security checkpoint and open 5 AM – 10 PM. (Photo Credit: Travel Codex)
AmEx opened its first Centurion Lounge in Las Vegas McCarran International Airport (LAS) in 2013. Freshen up in well-appointed shower suite, and dine in decadence with cuisine by chef Scott Conant. Savor succulent dishes like Lamb and Beef Börek and Orecchiette with Eggplant. You can even enjoy a cocktail developed by one of the nation's top mixologists, Jim Meehan. The Lounge is located in Concourse D, opposite Gate D1. The concourse is accessible from Terminal 1 or Terminal 3 via the transit system. Once you pass security, follow signs to D gates. Hours are 5 AM – 11 PM. Photo courtesy of American Express.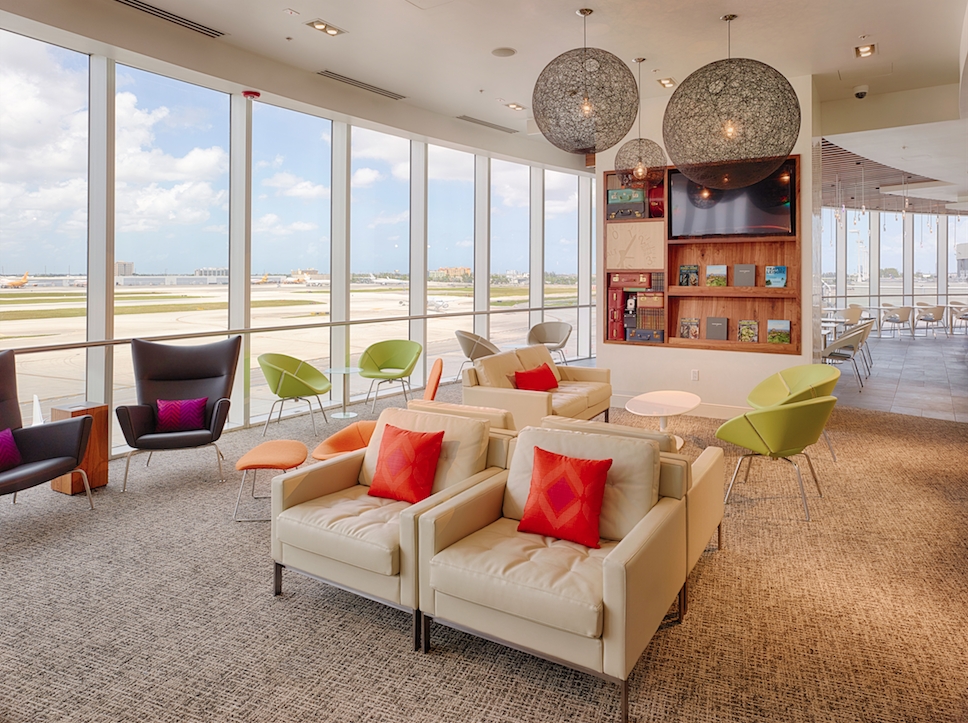 Next, let's travel to the Centurion Lounge at the Miami (MIA) airport. This airport lounge provides a bright environment and even offers spa therapies! Once again, the locally-inspired food is incredible, with cuisine designed by James Beard Award-winning chef Michelle Bernstein. The Latin-inspired Braised Chicken Thighs and Corn Soup with Roast Poblanos will have you shouting "Ole!" The Lounge is located in Concourse D, near Gate D12, on the 4th floor. The Lounge is accessible via the Skytrain in North Terminal- Station. Open 5 AM – 11 PM.   Photo courtesy of Miami Airport.
Stuck in LaGuardia Airport (LGA)? Then this Centurion Lounge is the place to hang out – and it's even located pre-security, perfect for a pre-flight visit with a friend. Sip on wines handpicked by renowned wine authority Anthony Giglio, and savor the diverse New York City culinary offerings like Green Chili Udon Noodles and Italian Burrata on Crostini, designed by one of Zagat's top 30 under 30 chefs, Cédric Vongerichten. The Lounge is located pre-security, on the 3rd floor between Concourses B and C. If your flight departs from another terminal, you can take the Route A or B airport shuttle on the arrivals level. Hours are 5:30 AM – 8 PM (Sunday – Friday) and 5:30 AM – 6:30 PM on Saturday. Photo courtesy of The Points Guy.
The Dallas-Fort Worth Airport is the third busiest airport in the country, so the Centurion Lounge here is just what the doctor ordered to escape the craziness – unexpected touches like spa therapies from exhale® and even a family room! Dining is also a pleasure, with cuisine designed by James Beard Award-winning chef Dean Fearing, including Tex-Mex dishes like Texas Migas with Chorizo and Sweet Onions. The Lounge is located in Terminal D, opposite Gate D17, on the mezzanine. The Lounge can be reached from any other terminal via the Skylink train and is open 5:30 AM – 10 PM. Photo courtesy American Express.
Last, but not least, is the Centurion Lounge at the San Francisco Airport (SFO.) Here, a Napa Valley wine tasting area and a well-appointed shower suite can wash away any of your airport travel stresses. Succulent dishes from Zagat chef Cédric Vongerichten await – like Fried Chicken with a Honey Lemongrass Glaze and Chocolate Mousse with Mint Cream. Yum! The Lounge can be accessed post-security from Terminal 3 or from International Terminal G. If your flight is not in Terminals 3 or G, visiting the lounge could be a bit cumbersome. Since all terminals are not connected post-security at SFO, if you are flying out of another terminal, you may be able to use your boarding pass to enter through T3 security – subject to approval by the TSA agent. After visiting the Lounge, you will need to exit through security, take the AirTrain or walk to your terminal and re-enter through security. Open 5 AM – 11 PM. Photo credit: www.alldonemonkey.com )
Who knows – on your next layover or pre-flight airport travels, these American Express Centurion Lounges can stand guard to protect you from travel insanity!
Access to The Centurion Lounge at these airports is complimentary for global Platinum Card® and Centurion® Members. To access The Centurion Lounge, the Card Member must present The Centurion Lounge agent with the following upon each visit: his or her valid Card, a boarding pass showing a confirmed reservation for same-day travel on any carrier and a government-issued I.D. The Centurion Lounge is a Day of Departure lounge requiring confirmed travel plans. Passengers holding standby tickets and non-revenue standby passengers, including airline or industry employees traveling on discounted tickets, are not eligible to utilize the lounge unless they have received a boarding pass showing a confirmed seat or zone assignment for the flight for which they are on standby. All other Card Members with a valid American Express® Credit or Charge Card are eligible to purchase access to the Lounge for $50 per day, subject to capacity. PLATINUM CARDS ELIGIBLE FOR COMPLIMENTARY ACCESS